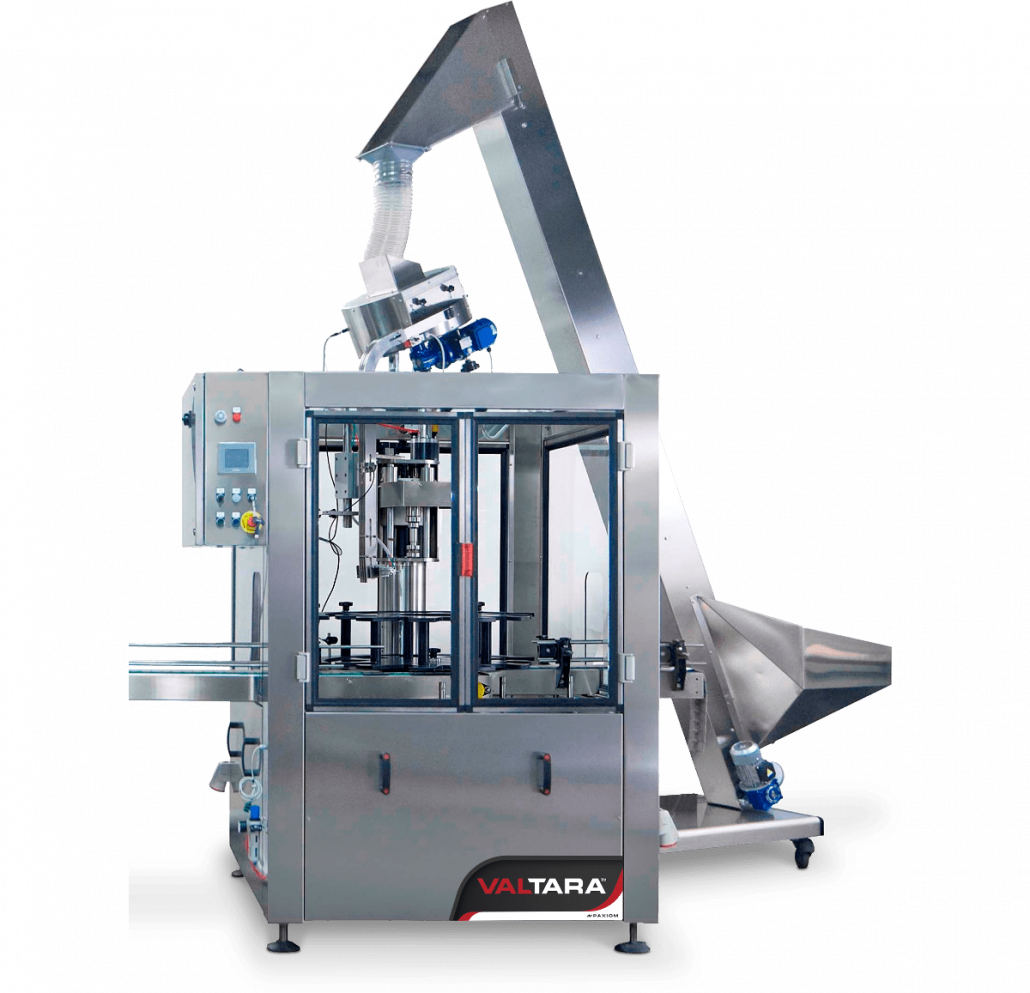 While every packaging operation serves its own purpose, capping is considered one of the most crucial.
Why? Simple. An incorrectly capped container, bottle, or jar can easily leak your precious product out or worse, the leaking could completely damage your product. This is why it is of paramount importance to secure not only good quality caps but also a quality-designed and engineered capping machine.
A quality container capping machine has the ability to provide consistent and tight seals across an entire production day. Consistency is important to avoid waste and product loss. So, if you're unsure where to turn for your container capping needs, ValTara is the capper machine manufacturer for you.
We offer two models of capping machinery:
Automatic Single Head Chuck Container Capping Machine
With a mechanical speed of up to 30 containers per minute, this automatic capping machine uses a single head chuck. It is perfect for medium to high-speed capping requirements. This affordable capping machine is best suited to industries like the beverages, snack food, pharmaceutical, confectionery, and nutraceutical industry.
Capable of operating on a diverse range of container sizes, this capping machinery comes standard with a single closing unit for pressure caps, which can, later on, be upgraded to operate with either aluminum or screw caps.
Its features are as follows:
Through its sound-dampening features, caps are loaded and conveyed into the capping machine from the stainless steel vibrator bowl
It has motor-driven conveyor belts that feed the containers to the capping area
A rotating star wheel where containers are capped individually after being transported and properly positioned
Adjustable rotation speed and magnetic clutch so that the closing torque can be calibrated
Automatic Triple Head Chuck Container Capping Machine
For high-speed production rates, we have the rotary capping machine that automatically caps up to 80 containers per minute. Perfect as an end-of-line solution for beverage, snack food, pharmaceutical, confectionery, nutraceutical and so much more, this rotary container capping machine is built with three heads that can are operable on a wide variety of container sizes and types.
Features are as follows:
Conveyor belts will continue to feed the rotary capper with bottles/containers/or jars
Chuck assemblies are spun on the turret found on the rotary capping machine
Empty chucks go through the swinging arm carrying one cap each for automatic pick and place
The turret will continue to rotate while chucks are individually lowered over the jar, container, or bottle
Revolving container, bottle, or jar is used to accurately align the cap before it will be torqued with precision
The cap is released by the chuck assemblies so the chuck can rise while capped bottles will exit the machine in an orderly manner.
While hand capping can be an alternative solution for your capping needs, it won't give you the same assurance when compared to the consistency of a capping machine. Container capping machines like the ones we offer at ValTara do not only guarantee consistency but also offers reliability in the capping process.